Workshop on IoT Healthcare systems and cyber security
Prof. Dr. Ghalib A. Shah
Title: Prestige of Cyber Security in IoT Healthcare
Bio:
Dr. Shah is a IEEE Senior Member, Professor and Sultan Qaboos IT Co-Chair at Al-Khawarizmi Institute of Computer Science (KICS), UET, Lahore, Pakistan. He has over fifteen years' experience in research and development. He received the Ph.D. degree in computer engineering from Middle East Technical University, Ankara, Turkey, in 2007.
Dr. Shah started his academic career at College of E&ME, National University of Sciences & Technology, Islamabad, Pakistan as an Assistant Professor in 2007 and served for three years. He has also been at School of Computer Science, Australian National University as a visiting fellow during 2009-10. Later, Dr. Shah moved to Center for Advanced Research in Engineering (CARE), Islamabad, Pakistan as a member Technical Staff and led various networking projects for one year. He then joined the Next Generation Wireless Networks Lab, Koc University, Istanbul as a Research fellow and produced significant research publications in well reputed conferences and journals. Dr. Shah joined Al-Khawarizmi Institute of Computer Science (KICS), UET Lahore in 2012 and established Internet of Things (IoT) Lab, where he received many research grants from HEC Pakistan and ICT R&D Fund. Currently, several IoT and cyber-security related projects are in progress at his Lab. His research interests are in the area of wireless networking protocols for cognitive radio networks, multimedia communication, IoT and IoT security.
Workshop on Telehealth, Patient Empowerment and Education through Technology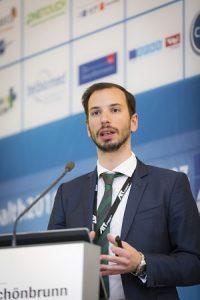 Diogo Martins
 Title:

Towards a Digital Health 2.0: Needs & demand
 Bio:
 Diogo Martins, MD, Graduated in Health Equipment and Technology, academic   background consists on Electronics, ICT & Medical Devices. Holds a MD in Healthcare   Information Systems Management obtained in partnership between the Polytechnic   Institute of Leiria (IPL) and Faculty of Medicine of Oporto (FMUP) with a thesis in eHealth  field: "Impact of using mobile handheld technology in health care delivery: a Systematic review". He has worked as Medical devices consultant, key account manager and as ICT Project Manager in SPMS, working on Healthcare data sharing – Radiology and DICOM Imaging; Infrastructure for Healthcare data sharing – XDS, IHE and Telemedicine Platform. Most recently he coordinates (X-eHealth, eHAction and HEALTHeID) and actively participates in more than 10 EU projects in the Digital Health-related to Patient Empowerment, Innovative use of Health data, Interoperability and eHealth Sustainability. He has been able to make a "bridge" between ICT expertise and how important is to engage Healthcare professionals and citizens to ensure healthcare enhancements. Currently, he works at SPMS and is responsible for International Projects as well as and International Cooperation. 
Abstract:
eHealth and Digital Health is the "new" health. COVID-19 showed that integrated care and digital technologies have an important role to increase healthcare outcomes. The Citizen Empowerment multi-stakeholder communities and initiatives around Europe focused on validating different digital solutions that build the relationship and strengthen cooperation between citizens, patients, and healthcare providers. Further work has been done to involve different stakeholders on individual views and expertise on key subjects, from Interaction between citizens and healthcare providers and citizen empowerment, Implementation of digital health and mHealth projects/initiatives.
In the nutshell, is important to sync and strong the relationship and cooperation between healthcare workers, organisations, citizens and industry and understand how can we develop the digital health curriculum for healthcare workers.